Customer Service
Customer Service is Our Core Competency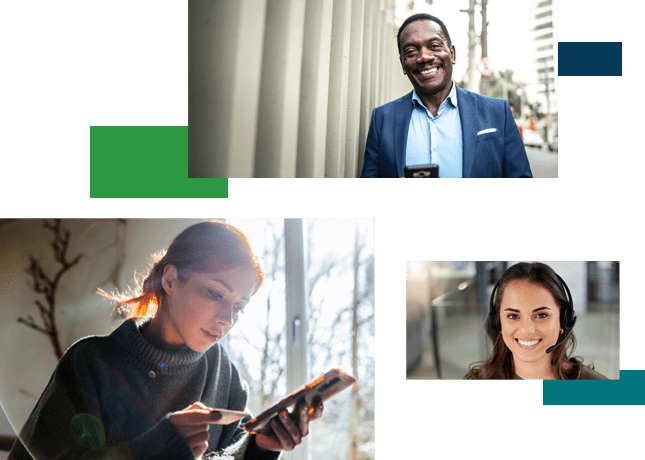 We Simplify Your Customer Experiences
Your constituents expect world-class experiences, whether they are interacting with private companies or with your agency. They want to resolve their issues quickly and securely, using their preferred communication channels.
By partnering with Pioneer, you can offer constituents a state-of-the-art, omnichannel contact center ecosystem that optimizes your program outcomes and simplifies your customer experiences.
For forty years, we have enhanced customer experiences for even the most complex state and federal programs. Using technology, expertise, predictive analytics, and industry-leading training programs, we ensure constituents get the information they need - when and how they need it - while optimizing their outcomes.
Transformative Digital Contact Center Experience
We innovate and invest continually in our technology, ensuring a best-value solution for your agency and a simplified experience for your constituents.
Our omnichannel customer engagement platform delivers a modern, scalable, and multilingual constituent experience.
Our robotic process automation (RPA) makes your program's workflows more efficient, cost effective, and flexible.
Our business analytics tools turn your data into actionable insights with speed and ease.
We invest continually in our tools and platform, enabling you to harness next-generation technologies for your program.
We use cloud computing to help you innovate faster and build the easy, cost-effective programs you and your constituents expect.
Our telephony suite maximizes your program's contact rates and velocity; delivers compliant, hyper-personalized experiences at scale; and optimizes productivity.
Our account-based customer service platform is a single source of truth that drives simplicity and transparency throughout your program.
Tailor Your Mix of Communication Channels to Your Program's Unique Needs
Email

Phone

Text

Webchat

Web portals

Direct mail
Give Your Constituents the Modern CX Options They Expect
Persistent, cross-channel experience

Virtual queue

Scheduled callbacks

Customer service surveys

E-signature capabilities

Multifactor authentication / verification
In urgent situations, we can quickly activate dedicated contact centers to handle inbound and outbound constituent communications.
During the COVID-19 crisis, we set up 100-plus-person unemployment insurance call centers for states, moving from concept to operation in just a few business days. In serving their millions of impacted residents, we were up to 32% more efficient than the states' other partners.

In the wake of Hurricane Harvey, we partnered with the Texas General Land Office - on behalf of the Federal Emergency Management Agency (FEMA) - to provide call center support to thousands of disaster relief applicants. We were up and running within days, scheduling site visits for more than 95% of interested applicants.
Investing in Our Most Valuable Asset: Our People
We employ hundreds of skilled agents who have years of experience helping people navigate complex government programs. They are well trained to establish collaborative relationships and to provide service that minimizes complaints and optimizes results.
Each of our contact centers is equipped with the latest intelligence capabilities.

Every employee undergoes intensive training that emphasizes customer service, confidentiality, and compliance. Across our enterprise, our employees complete 45,000+ hours of training annually. Every year since 2014, Training magazine has recognized our enterprise as a Training APEX Awards winner.

Our training programs instill integrity and accountability across all departments and ensure risk is managed consistently.

Our employees are trusted counselors and coaches, driven to help your customers find a path to success.
Learn more about our commitments to training, compliance, cybersecurity, and corporate citizenship
Positive Feedback From Our Clients' Customers
"Thank you for all your help. You've done a great job and are a lifesaver."
"In all my years you have been the best representative I have dealt with in any matter. Thank you."
"I would like to express my sincere gratitude. I appreciate excellent customer service, and that is exactly what your staff provided me."
"[You] have been courteous and understanding. Thank you for treating me like a human."
"[Your] staff were consistently professional and accommodating. Their positive assistance eased the stress of this situation."
"[Your] excellent customer service provided me with an amazing sense of relief. Thank you!"
"Thanks for taking your time in helping me. Your help is greatly appreciated."
"[Your] rep was great. [She] answered all my questions and followed up to make sure everything was in place."